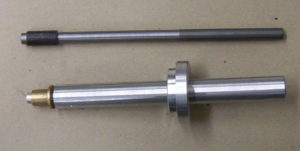 Here are "Do-It-Yourself" tools for removing and replacing
the intermediate shaft bushing in the engine block. If you are into building or
racing the early hemi Chrysler, Dodge or DeSoto, these tools can pay for themselves in a few trips to the machine shop. How about at the track? If you're hundreds of miles from home and you lose the bushing you're done – pack it up for a two-bit item. I've lost two – that's why I made the tools shown above.
The kit includes: removal bar with sleeve, installation driver and centering guide, one bushing, storage case and complete instructions.
P/N ISB354 Complete Kit $119 + shipping *
P/N ISB354B Extra Bushing $8.50 + shipping *
* Actual shipping charges only – no additional charge for packaging
Prices subject to change