Delta Blower Drive Idler Arm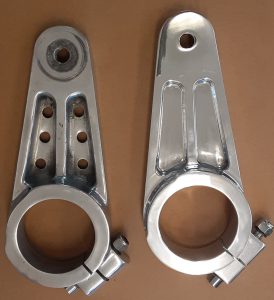 The Delta blower drives haven't been made in about 50 years. There are two different style arms that I am aware of and both were castings. One for a 2″ pulley and the other for a 3″ pulley. The arm shown to the left was originally used for a 2″ blower pulley. The one to the right, being billet, is more than sufficient for a 3″ setup as well.
The original arm utilized a 9/16 bolt for mounting the idler pulley.
I machine these on a Bridgeport vertical mill with a rotary table – no CNC here. It is time consuming and therefore more expensive than a production run but you will be happy with the results.
I also offer the following options:
Pulley end tapped for your size idler bolt – no extra cost.

Offset arm – If you need the arm offset out to allow for proper belt alignment, I can accommodate. Call

Length of arm – I recently machined a 1" longer arm for a special application. Call
If you've been looking for an idler arm and can't find one, give me a call.   P/N  Delta   $295
OR,

Print this "Word" document and follow the machining steps. Good luck!
If you're successful, send me a picture. I'll post it here.
_______________________________________
Billet Front Cover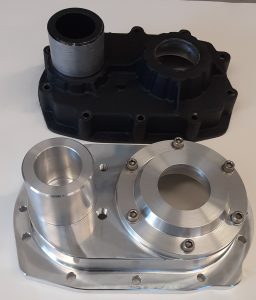 "I wanted an original aluminum Delta cast cover but got tired searching the internet. Until I locate one, I will need to get my engine running." Sound familiar? Here's an option. I purchased a billet cover and made the rest. There's a lot of work in this so it's not cheap. Everything is interchangeable with the Delta cover so there's nothing else to purchase once you find the original. Around the first or second quarter of 2023 I will have the 4130 drive shaft in stock. Except for the cast cover, the drive shaft will complete the inventory of Delta parts. The nice thing about the Delta configuration is that it will fit any engine – no engine specific idler brackets to buy. The only thing to purchase is the crank hub for your particular application. RCD and Good Vibrations Motorsports carries most of them. What this means is, if you do find the original Delta parts, you'll be able to sell the billet setup as a complete blower drive. So, you're not throwing money away on the billet setup. That was my intention in going billet.
Price: TBD    I'll post a price here once I see the final bill for the drive shaft. If interested, give me a call and I'll reserve one for you.
__________________________________________
Drive shaft – 4130
The drive shaft will be available in the first or second quarter of 2023.
The price will be approximately $395 – details to follow.
__________________________________________
________________________________________
Modification of Standard Blower Pulley to fit Delta Shaft
I can modify any aluminum blower pulley to fit the 1.373 Delta shaft including broaching the 5/16″ key-way.  The shortage of Delta pulleys has necessitated the need for this modification in order to keep the entire setup looking "Delta". Unlike the original Delta pulleys, the 1.375 hole will be on-center within .001-.002. Just nice to have it centered so there's no buildup of run-out.

You can either send me your pulley or I can supply one for the price of the pulley plus an additional $25. As mentioned in the "For Sale" section, some of the old pulleys were made from a soft material that does not machine well. If you plan to polish the pulley, a 6061 pulley should be purchased from Good Vibrations Motorsports.

 I will need your split collar to match the key-way and location of tapped holes for 5/16 Allen bolts. If you do not already have a split collar, see below.
Modifications – $225
Please Note: Since my last modified pulley, the price of welding went up $20 as well as gas prices. Sorry for the increase. Disclaimer: This is a welded modification. Although welded by a certified welder, the longevity of the pulley can not be determined. Even though there have been no problems to date, it is advisable to periodically inspect the area of the weld. This would be at 1″ from centerline as seen in the first of the four pictures below.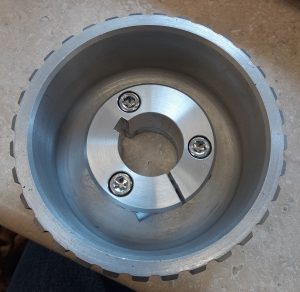 ________________________________________
Delta Split Collar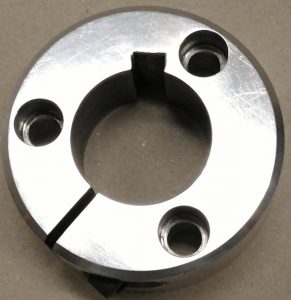 How about a split collar for your Delta pulley? There are two configurations.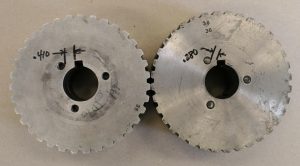 Split collars also came in a variety of thicknesses, diameters and bolt size for tightening to the shaft.
Early collars utilized a 5/16-18 bolt where the later configuration utilized a 3/8-16 bolt. Note: For nostalgia reasons I use a 2″ wide pulley. The Delta configuration (idler pushes inboard) provides more belt/pulley contact reducing the chances of stripping the cogs off the belt. I've run 25% over with the 2″ setup without belt failure. For this reason, I always recommend a 2″ setup.

A dimensional check of the tapped holes on both the .280 and .410 pulleys shows a considerable difference. Neither bolt patterns are on a concentric bolt circle. Thus, the split collar I supply will be an exact duplicate of the original. Or, as an option, send me your pulley(s) and I'll provide the correct collar. $175
BTW – The early configuration (we'll call it the 2″ setup) has a shorter 1.373 drive shaft. Before ordering, check the length from the seal in the Delta cover to the end of the shaft. Early = 1.950, Late = 2.400. The early configuration may require a thinner (1″) collar to avoid overhanging the end of the 1.373 shaft.
Run-out: Each collar is checked for both radial and lateral run-out prior to shipping. As assembled with a blower pulley, I am attempting to provide less than .005 at the outer edge of the pulley with my setup which has "0" shaft run-out. It should be noted that if you find excessive run-out, use calipers to check the dimension from the 1.377 bore in the pulley to the outside of the blower pulley tooth in several places. I have found as much as .008 difference on my pulleys. Given a split collar does not center perfectly, you may experience as much as .012 radial run-out. Until recently, I have never checked for run-out and never had a problem on the track so functionally it will still work. Another area to check is shaft run-out. I have seen .005. To eliminate this run-out, the mounting surface to the supercharger will need to be machined or ground. Not a bad idea here since run-out affects the load on the bearing. You should should be looking for .001-.002. When you slip the front cover over the 1.373 shaft, check for alignment with the (2) cover dowel pins. If the cover does not drop freely over the pins, drill out the pin holes.

If you find your pulley has a different key-way offset than shown above, I can custom make your split collar to fit. Your pulley will be required for this modification to ensure key-way is in the correct position.
___________________________________
Adapter – Standard Blower Pulley to Delta shaft
Here's another pulley option. If you're into a static display, one pulley will suffice. But, if you're like me and actually run in competition or on the street, you need a selection of pulleys. To make the selection easier, I offer an adapter to use a standard off the shelf blower pulley with a Delta-like split collar to accommodate the 1.375 shaft. Most of the Delta pulleys were 7/8″ thick at the back. With the modern 1/2″ pulley thickness + my 3/8″ locator, the pulley will move forward 3/8″ but the collar will remain in the same position on the shaft.
The adapter is 3.500" in diameter compared to 2.800" for a Delta split collar. Given the larger diameter, there is a limitation on the inside diameter of your pulley in order to tighten the split collar. I am including a long handle 5/16" box wrench and short hex driver for this purpose. Based upon Good Vibrations Motorsports measurements, a 35-tooth pulley (or 4.875" I.D.) is the smallest diameter that can be used and still have room to insert the box wrench and hex driver. By choosing combinations on the Good Vibrations site, the supercharger can be over-driven 23% (35 top / 43 bottom). When choosing a combination of pulleys with this adapter, it would be better to have a larger top pulley for 5/16 wrench clearance purposes. For example, if you were running a ratio of 1:1 you could use either a 35 tooth top and bottom or a 37 tooth top and bottom. In this example, a 37 tooth would provide more wrench clearance since it is larger in diameter  $250
Bottom pulley spacers available in .100 increments from Good Vibrations Motorsports for adjusting belt alignment.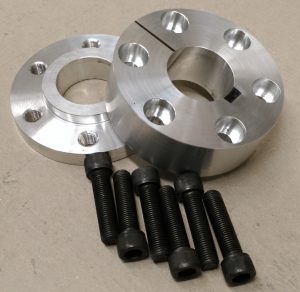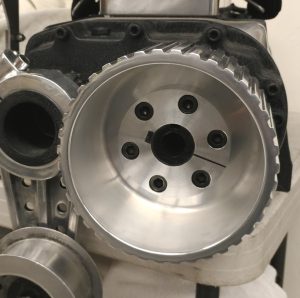 Variation – If you prefer a split collar that more closely resembles the 3-hole Delta, I can omit three holes. It would look like the touched-up photo below. $230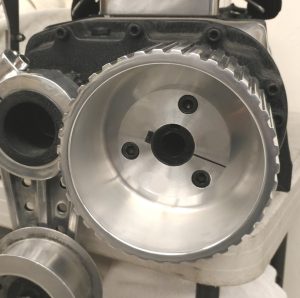 Note on machining: In 2020 a potential customer asked why the adapter was so expensive. As a result, when making another one in 2021, I documented the steps shown in these Word documents. If you would like to make your own, here are the steps. After reading, you may want to order one from me as I will take responsibility for any mistakes.
Lathe
Standard blower pulley to Delta shaft adapter – Lathe Operation
Milling
Standard blower pulley to Delta shaft adapter -Bridgeport
________________________________
Delta Front Cover Bearing and Seal

Call for availability
New bearing for Delta front cover – $58.50 + shipping
New seal – $29 + shipping
____________________________________
PLEASE NOTE – All pieces are fabricated one at a time. The good news – I can customize any order to meet your requirements at little or no additional cost. The bad news – "one offs" cost more than a production run.
____________________________________
Check "For Sale" section for used Delta items