Delta Blower Drive Idler Arms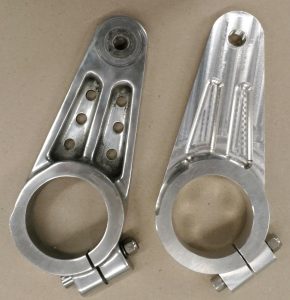 The Delta blower drives haven't been made in about 50 years. There are two different style arms that I am aware of and both were castings. The arm shown was originally used for a 2″ blower pulley but being billet is more than sufficient for a 3″ setup as well.
The original arm utilized a 9/16 bolt for mounting the idler pulley.
The arm on the right was reproduced from billet stock and is dimensionally close to the original. I say close because the casting has draft angles that makes an exact reproduction almost impossible. This difference can be seen in the small lightening pockets. The standing ribs appear to be narrower compared to the billet. Well, they are at the top and then taper down to the thickness I provide with the billet.
I machine these on a Bridgeport vertical mill with a rotary table – no CNC here. It is time consuming and therefore more expensive than a production run but you will be happy with the results.
I also offer the following options:
Pulley end tapped for your size idler bolt – no extra cost.
Offset arm – If you need the arm offset out to allow for proper belt alignment, I can accommodate. Call
Length of arm – I recently machined a 1" longer arm for a special application. Call
Narrower ribs – If you want the standing ribs in the small pockets to look more like the casting, I can provide whatever you like. The ribs are presently .400 thick – no extra cost.
If you've been looking for an idler arm and can't find one, give me a call.   P/N  Delta   $265
__________________________________________________
I am reluctantly including a shot of a second idler arm. This arm is 3/8″ thicker with ribs on the front and back making it much more time consuming to machine as well as a substantial increase in material cost. Suppliers aren't going to chop a 5″ x 10 1/4″ x 1 3/4″ chunk out of a 60″ x 120″ sheet without charging a premium. In addition, the design shown above is much stronger being made from billet. But, if you just have to have one, figure about $500. Note: Someone ground the small end off this arm. You'll get a full radius on the final product.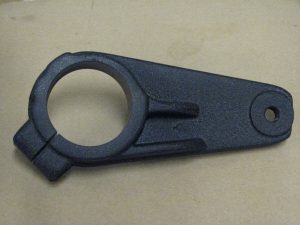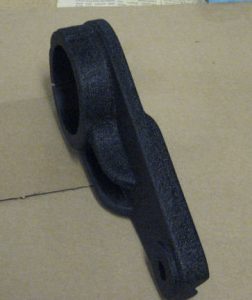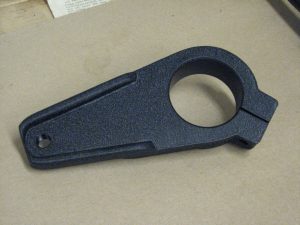 _______________________________________
Adapter – Standard Blower Pulley to Delta shaft
Have you noticed Delta blower pulleys are getting harder to find? I'd say so! If you're into a static display, one pulley will suffice. But, if you're like me and actually run in competition or on the street, you need a selection of pulleys. To make the selection easier, I offer an adapter to use a standard off the shelf blower pulley with a Delta-like split collar to accommodate the 1.375 shaft. Most of the Delta pulleys were 7/8″ thick at the back. With the modern 1/2″ pulley thickness + my 3/8″ locator, the pulley will move forward 3/8″ but the collar will remain in the same position on the shaft.
The adapter is 3.500" in diameter compared to 2.800" for a Delta split collar. Given the larger diameter there is a limitation on the inside diameter of your pulley in order to tighten the split collar. I am including a long handle 5/16" box wrench and short hex driver for this purpose. Based upon Good Vibrations Motorsports measurements, a 35-tooth pulley (or 4.875" I.D.) is the smallest diameter that can be used and still have room to insert the box wrench and hex driver. By choosing combinations on the Good Vibrations site, the supercharger can be overdriven 23% (35 top / 43 bottom). $215
Pulley spacers available in .100 increments from Good Vibrations Motorsports for adjusting belt alignment.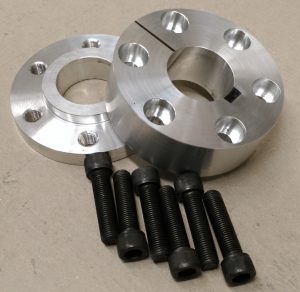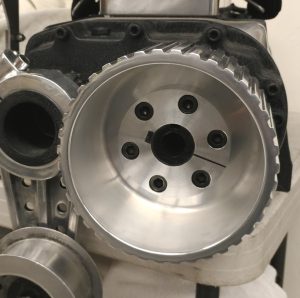 Variation – If you prefer a split collar that more closely resembles the 3-hole Delta, I can omit three holes. It would look like the touched-up photo below. $200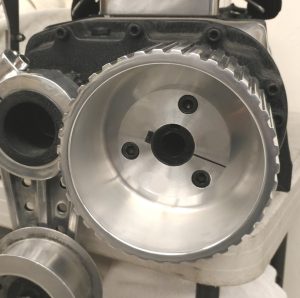 ________________________________________
Delta Split Collar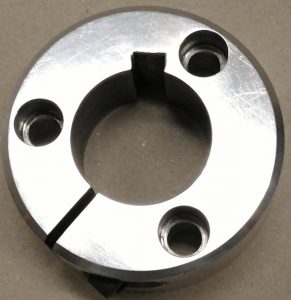 How about a split collar for your Delta pulley? There are two configurations.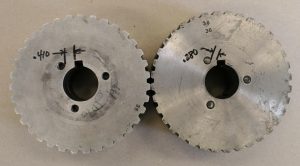 Split collars also came in a variety of thicknesses, diameters and bolt size for tightening to the shaft.
Early collars utilized a 5/16-18 bolt where the later configuration utilized a 3/8-16 bolt. I suspect this change (as well as the collar thickness) was due to the move from a 2″ wide pulley in the early days to the more popular 3″ wide pulley. For nostalgia reasons I use the 2″ wide pulley. The Delta configuration (idler pushes inboard) provides more belt/pulley contact reducing the chances of stripping the cogs off the belt. I've run 25% over with the 2″ setup without belt failure. A dimensional check of the tapped holes on both the .280 and .410 pulleys shows a considerable difference. Neither bolt patterns are on a concentric bolt circle. Thus, the split collar I supply will be an exact duplicate of the original. $135
BTW – The early configuration (we'll call it the 2″ setup) has a shorter 1.373 drive shaft. Before ordering, check the length from the seal in the Delta cover to the end of the shaft. Early = 1.950, Late = 2.400. The early configuration may require a thinner (1″) collar to avoid overhanging the end of the 1.373 shaft.
Run-out: Each collar is checked for both linear and lateral run-out prior to shipping. As assembled with a blower pulley, I am attempting to provide less than .005 at the outer edge of the pulley with my setup which has "0" shaft run-out. It should be noted that if you find excessive run-out, use calipers to check the dimension from the 1.377 bore in the pulley to the outside of the blower pulley tooth in several places. I have found as much as .008 difference on my pulleys. Given a split collar does not center perfectly, you may experience as much as .012 radial run-out. Until recently, I have never checked for run-out and never had a problem on the track so functionally it will still work. Another area to check is shaft run-out. I have seen .005. To eliminate this run-out, the shaft mounting surface will need to be machined. Not a bad idea here since run-out affects the load on the bearing.
________________________________________
My next projects are to fabricate a "new and improved" 1.375 (actually 1.373) drive shaft, provide Delta style pulleys and lastly a reproduction of the Delta cover. Check back.
_______________________________________________________
PLEASE NOTE – All pieces are fabricated one at a time. The good news – I can customize any order to meet your requirements at little or no additional cost. The bad news – "one offs" cost more than a production run.
___________________________________________________________________________________________________________
See "For Sale" section for used Delta items