Delta Blower Drive Idler Arm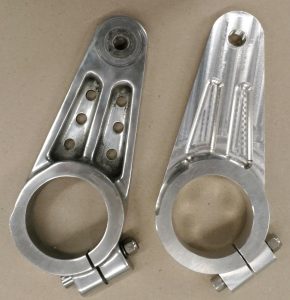 The Delta blower drives haven't been made in about 50 years. There are two different style arms that I am aware of and both were castings. The original arm utilized a 9/16 bolt for mounting the idler pulley.
The arm on the right was reproduced from billet stock and is dimensionally close to the original. I say close because the casting has draft angles that makes an exact reproduction almost impossible. This difference can be seen in the small lightening pockets. The standing ribs appear to be narrower compared to the billet. Well, they are at the top and then taper down to the thickness I provide with the billet.
I machine these on a Bridgeport vertical mill with a rotary table – no CNC here. It is time consuming and therefore more expensive than a production run but you will be happy with the results.
I also offer the following options:
Pulley end tapped for your size idler bolt
Offset arm – If you need the arm offset out to allow for proper belt alignment, I can accommodate.
Length of arm – I recently machined a 1" longer arm for a special application.
Narrower ribs – If you want the standing ribs in the small pockets to look more like the casting, I can provide whatever you like. The ribs are presently .400 thick.
If you've been looking for an idler arm and can't find one, give me a call.   P/N  Delta   $245
I am reluctantly including a shot of a second idler arm. This arm is 3/8″ thicker with ribs on the front and back making it much more time consuming to machine as well as a substantial increase in material cost. Suppliers aren't going to chop a 5″ x 10 1/4″ chunk out of a 60″ x 120″ sheet without charging a premium. But, if you just have to have one, figure about $500. Note: Someone ground the small end off this arm. You'll get a full radius as shown in the pictures above.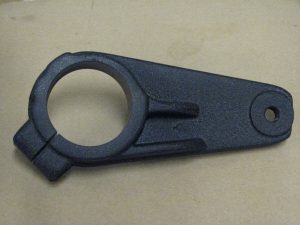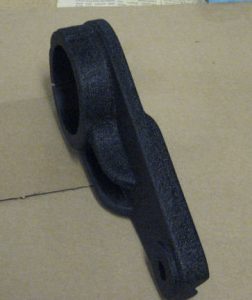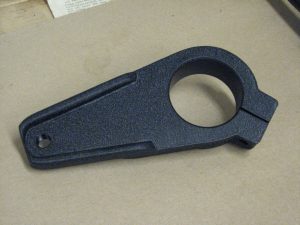 Coming Soon! Have you noticed Delta blower pulleys are getting harder to find? I'd say so! If you're into a static display, one pulley will suffice. But, if you're like me and actually run in competition, you need a selection of pulleys. To make the selection easier, I am fabricating adapters to use a standard off the shelf blower pulley with a Delta-like split collar to accommodate the 1.375 shaft. Most of the Delta pulleys were 7/8″ thick. With the modern 1/2″ pulley thickness + my 3/8″ locator, the pulley will move forward 3/8″ but the collar will remain in the same position on the shaft. No, the split collar doesn't look stock Delta but at least you have options. I'll post pictures in the second quarter of 2019.
How about a split collar for your pulley? There are two configurations. If you can't find a collar or need an extra, give me a call or drop me an email.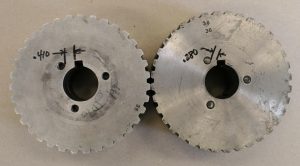 My next project is fabricating a "new and improved" 1.375 drive shaft. The old shafts acquired substantial run-out over time due to the absence of proper stiffeners. Check back